Activities
Welcome to the EYC! Whether you are an avid racer, a recreational sailor, or a landlubber, the Ephraim Yacht Club is the best place to be in Door County. Our members enjoy watching the Eagle Harbor Sunsets, kayaking/paddle boarding with friends, swimming off the dock, attending the many social events, watching the many regattas, playing bridge or bunco, learning to sail and visiting with friends and family on the dock. Whether you are a youngster, in your middle years, or an "oldster", you will find wonderful ways to enjoy your time each summer, and you'll make long lasting friends at EYC!
Overview

Fyr Bal Pancake Breakfast: The EYC's Fyr Bal Pancake Breakfast is held at the Ephraim Village Hall. Breakfast includes all-you-can-eat-and-drink buttermilk pancakes, Marchant's breakfast sausage links, coffee and orange juice. This is a bargain at only $10 per person ($5 children age 10 and under). The Pancake Breakfast is a great way to start off your Fyr Bal weekend and to catch up with your friends as summer begins. All proceeds benefit the EYC. This event is open to everyone, so please invite your friends even if they are not EYC members! Please signup to volunteer
Fyr Bal picnic dinner & fireworks: Bring the family and a picnic dinner to watch the fireworks on the dock. Great way to catch up with your EYC friends and family! The evening bonfires followed by spectacular fireworks are a great way to kick off the summer.

EYC Opening Social: This is always a fun night to meet the staff, reunite with summer friends and meet EYC's new members in a casual and friendly environment on the dock. EYC supplies beverages. Please bring an appetizer to share. This event is open to EYC members and guests ages 18 and up, and to all EYC staff. To volunteer, please sign up here.

Ice Cream Social: This FREE event is open to EYC members and guests of all ages. Please bring a topping to share. Scoopers are needed. Thank you to Steve Sauter and family for hosting this wonderful annual event. To volunteer, please sign up here.

First Mates Potluck: This event is held at the Ephraim Village Hall. The women's potluck is a fun and casual evening to catch up with your old friends and meet new friends. Everyone brings their favorite dish to share and their choice of beverage. To volunteer, please sign up here

Men's Night on the dock: Enjoy Friday night races! You know the drill, bring something to grill. All EYC men welcome to attend.

44th Annual EYC Bratfest hosted by the Klein Family: The Kleins welcome all EYC members and their guests to their Bratfest located in Fish Creek (address will be sent to members) $15 adults, $6 children 11 and under (children 5 and under are free). All proceeds benefit the EYC. To volunteer, please signup here.

The Annual EYC Commodore's Party: This is held annually at the Peninsula School of Art, 3900 County Road F, Fish Creek. Wine, beer and sodas provided. Please bring appetizer to share. Adults $20. Children 18 and younger, $10. All proceeds benefit the Ephraim Yacht Club. To volunteer, please signup here.
Calendar
[tribe_events view="month" category="activities" tribe-bar="false" ]
First Mates
First Mates Coffee Meetings
When people join the Ephraim Yacht Club, every female member automatically becomes a member of the FIRST MATES as well. It is a wonderful group of women of all ages. Seventy or eighty years ago, when EYC finally obtained a clubhouse, the group was referred to as the Ladies Auxiliary. It was very loosely organized, with ladies taking turns at being in charge, and most of the duties consisted of making sandwiches and cookies to sell at the Annual Regatta.
In late August of 1982, Betty Vail, Susie Cunningham and Joan Shannon decided that more organization was needed. They called the women together, and formed the group called the FIRST MATES. A list was made of all the events that were scheduled for the next summer, and many ladies signed up in advance to work on them. It was decided that the wife of each current Commodore would be the chair of the group, possibly because Betty Vail's husband was the commodore that year. Thanks to a whimsical friend of Frank Heidler, the new chairperson was called the Mommodore!
FIRST MATES is still going strong!  As usual, the First Mates Coffee meetings is held at the EYC Clubhouse, upstairs in the "living room", to promote club events and seek volunteer help as needed. Please come and join in the fun at these casual get-togethers. Working together is a great way to get to know all the new friends who are waiting for you.
Bridge
EYC Bridge
All Bridge has been cancelled for the 2020 season.
Bridge 2020
Open Play will be held on Monday afternoons beginning June 8th from 1:00 to 3:30 p.m. Open play will also be held on Thursday mornings from 9:30 to noon, beginning August 6 (after the bridge lesson series has concluded).
Couples Bridge will be held on Tuesdays at 4:30 p.m., beginning June 9th, with an option of going out for dinner after play. You will play with the same partner for the evening. While registration is not necessary, we are asking you to let the Nelsons or the Littersts know if you are interested in playing on Tuesdays. They have volunteered again to coordinate this group's communication. Donna Nelson's email is donelson@hotmail.com. Lois Litterest's email is Loie7441@yahoo.com. You may also contact either couple in early June in Door County.
No advance registration is required for either of these open play times. Just come as often as you wish. (Reminder, you do need to be a member in good standing with dues paid to play).
We are pleased to announce that we have secured a teacher to lead our Thursday morning lesson series! Our new teacher, Barbara Robinson, comes highly recommended, and will be assisted by her husband Dave. Group Lessons for experienced players (not beginners) will be held on Thursday mornings from 9:30 a.m. to noon. Lessons will be based on the Standard American system, and will utilize pre-dealt hands based on the lesson presented. The lessons will consist of a 5 week series, beginning July 2. The curriculum is designed to be most effective with regular attendance. We will not be able to accommodate a non-registered student "filling in" for an absent student. To enroll, please complete the form below and send with your check (made payable to Barbara Robinson (not EYC)). The cost is $80.00, which includes the lessons and any teaching materials. Since the lesson series does not begin until July, the format for Thursday mornings beginning June 11 will be open play/review. (same time, 9:30 – noon)
This notice on the website is for downloading only. Print and complete the form on this page, and mail with your check to Suzanne Lisle to complete your registration. Enrollment priority will be based on the postmark date of the mailed check and form. If the class fills, we will maintain a wait list and you will be notified of your status. We cannot take reservations via the web or phone. Please contact Suzanne Lisle via email if you have questions: suzanne@sjlisle.com (please put EYC bridge on the subject line).  This activity supports EYC educational programs.
Bunco
EYC Bunco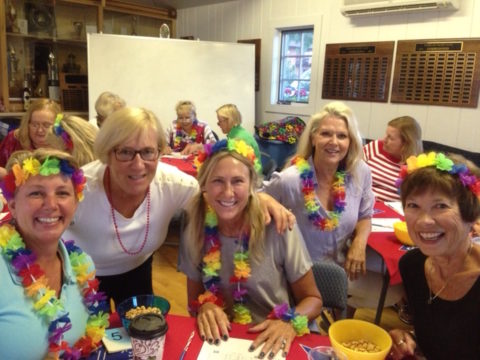 Many ladies of EYC enjoy playing Bunco on Monday nights at 7pm from late June to early August. This is an all-inclusive group and Bunco is a very easy game.  So even if you have never heard of it, come anyway. You'll learn it in 3 minutes, and you'll have lots of new friends before the evening is over. The conversation is just as important as the game. Simple snacks are provided, and we always take a short break to enjoy the sunset! See you there.  This activity supports EYC educational programs.  
Junior Activities
Junior Activities
Junior Activities sign up sheet is located in the clubhouse and will be posted one week in advance of event. Participants must be an EYC student or family member.  Ages 8 to 18 years are welcome.  Younger children must be accompanied by a parent/guardian.
EYC Junior Activity Schedule: All events begin at 6pm
2019 Junior Activities! Thank you Susanna Mortara for organizing Jr. Activities.
June 26, 2019: Red Putter Minigolf
July 3, 2019: No activity
July 10, 2019: Kickball at Sister Bay Sports Complex
July 17, 2019: Scavenger Hunt in Ephraim
July 24, 2019: Capture the Flag
July 31, 2019: Water Games
August 7, 2019: End-of-Season Party